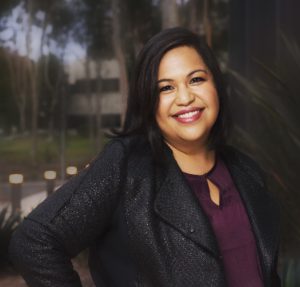 Kristine Custodio Suero is an award-winning legal professional and a highly sought-after speaker in her profession inspiring legal professionals to achieve authentic, purpose-driven careers and lives. A true servant leader, she has led the San Diego Paralegal Association and California Alliance of Paralegal Associations as President. She is proud to champion diversity as the first Filipina at the helm of the statewide professional trade association. 
Her passion for service spans into education like her elders including her own mother, Zena (yes, pronounced like the warrior princess). A zealot for higher education and NextGen pipeline development, Kristine teaches legal courses for a local San Diego paralegal program and lends her time as an advisory board member for one of the most prestigious universities in San Diego. 
She is most passionate about the innovation economy and dedicates her time to inclusive economic development projects, including employee ownership, and endeavoring to advance women in business, especially in non-traditional roles and industries such as STEAM and construction. Kristine was recently re-appointed as a Commissioner and serves as the Chair of the City of San Diego Citizens' Equal Opportunity Commission advocating for supplier diversity in contracting with the City of San Diego and bridging the rich cultural landscape of her beloved city with opportunities of economic impact to build a vibrant place to live, work and play. 
Kristine is also an officer of the Filipino American Chamber of Commerce of San Diego County where her proudest production to date, in honor of the Filipino Food Movement, was Kain Na: Discovering Our Roots Through Our Food, which garnered mainstream press nods on television, podcast and print. 
She served as Secretary and Vice President of the Rancho Peñasquitos Town Council (2013-2016) where she co-founded the annual Cookies & Cocoa with Santa holiday book drive and fundraiser benefiting local foster youth. The event draws hundreds of neighbors to share and enrich the lives of children who need a hand-up. 
Following in the footsteps of her adventure-seeking parents who embodied the philosophy of "leaving everything better than you found it," Kristine joined her family's small business as the administrator from 1998 to 2015 championing adults with developmental disabilities to live lives of independence and dignity. 
On December 7, 2017, Kristine was awarded by the Philippine American Business Improvement & Development (Phil AM BID) as the 2017 Rising Star for utilizing her professional skills in community service. Kristine was selected as a finalist for the 2019 San Diego Magazine Woman of the Year award. On September 26, 2020, Kristine was named the 2020 California Paralegal of the Year, awarded by the California Alliance of Paralegal Associations and nominated by the San Diego Paralegal Association.
Her latest projects include co-founding a media company, iFilAmNetwork, as well as her passion projects of combating human trafficking and elevating Filipinas to elected office. Kristine is a self-professed master chef of home cooking (especially Filipino food), a meeting queen, an avid writer and researcher, a creative, adventure-seeker/traveler/hiker, and a pug lover.
Kristine may be reached at kristine.custodio@gmail.com